CWWC Stop 1 - Belgrade, Serbia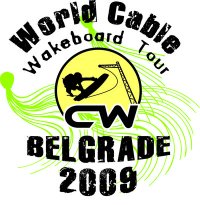 The first Stop of this years CWWC Tour was held last weekend in Belgrade, Serbia.
26 Rider from 6 countries competed at the first CWWC tour stop for important ranking points to fight for the total cashprize for the best ranked riders 2009.
I was a pretty hot weekend down in belgrade and as expected riders had a great time in serbia.
The Open Men Category was a pretty close between the first 3 riders.
CK Koester
,
Daniel Wehmann
and
Rene Konrad
all rode through, sticked their clean runs and had all about one point difference to the next place.
Daniel Fetz
who came 4th sticked two 7's in his run which shows you the level of riding presented in Serbia. You can tell these guys are going for the overall ranking and the money. Have a look at
how the ranking changed after this competition
.
The Junior Men were dominated by boardsport multitalent
Rocco van Straaten
from the Netherlands.
Sophia Marie Reimers
from Germany, still a Junior Lady, competed in the Open Ladies and won with confidence.
Here are some pictures to get an impression: