Every 2 years the Cable Wakeboard World Council (CWWC) organize the World Championships in Cablewakeboard. At the next Worlds also Cablewakeskate will be included as an official discipline at the World Championships. Here you can find the full lists of all WC in the history of Cablewakeboarding with all Facts and Results: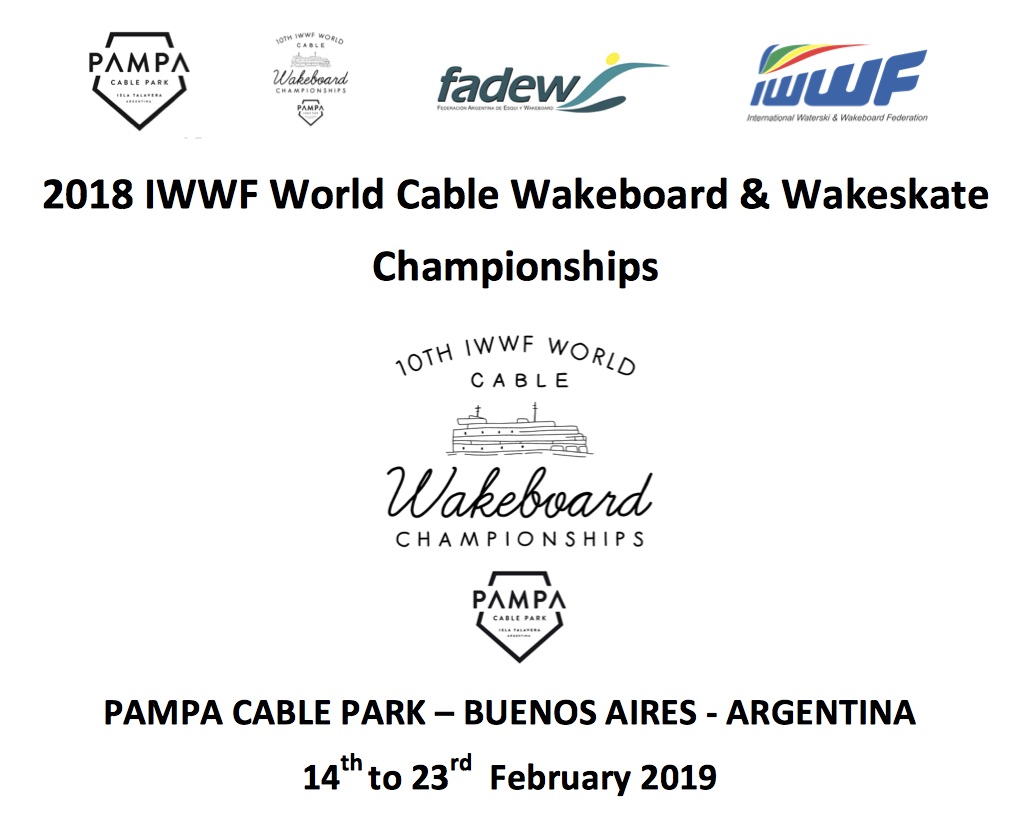 Read more here.
---
9th World Championships 2016 Morelos, Mexico

For the first time ever the PanAm confederation will host the Cable Wakeboard & Wakeskate World Championships.

Read more here.
---
8th World Championships 2014 Sauherad, Norway

The 2014 World Championships were be hosted by Norway at the Telemark County at the Norsjø Cablepark of Norsjø Ferieland in Sauherad/Norway. 159 riders attended from 25 countries.

Read more here.
---
7th World Championships 2012
Clark, Philippines
32 nationalities and over 200 Riders – this is what the Cable Wakeboard Worlds 2012 brought to the Philippines.
An impressive event hosted by Deca Wakepark in Clark, around 2 hours drive from capital city Manila.
See the competition pages here:
Wakeboard
---
6th World Championships 2010 Neubrandenburg, Germany
For the first time since 2001, the IWWF Wakeboard World Championships found their way back to Germany, and along with it, the superstars came to Neubrandenburg: Australia, USA, Israel, Russia, and­ – of course – the European top teams from Great Britain and Holland, they all showed their best wakeboarding tricks to the judges and the 2.500 heads in the audience. The wakeskaters fought for the title "Wakeskate Master Of The Universe" and being host, the German team appeared highly motivated. However, they missed the team title by a mere 40 points, so that one went to Great Britain.

See all Facts and Results: here
---
5th World Championships 2008 Anapa, Russia
Rider rock Russia – Ski Rixen Vostok Cable Wakeboard World Championships 2008 in Anapa
Toprider elect World Champions in Russia.
Yes, it's done – today the Best of the world's best riders elected their World Champions within the categories Girls, Boys, Junior Ladies, Junior Men, Open Ladies, Open Men and Masters Men.

See all Facts and Results: here
---
4th World Championships 2006 - Feldkirchen, Austria
Open Men - Laurent Peyrichou (FRA)
Open Ladies - Julia Bormann (GER)
Masters Men - Thorsten Bernecker (GER)
Junior Men - Nick Davies (GBR)
Junior Ladies - Ginger Pfennings (GER)
Boys - Ben Cordery (GBR)
Girls - Maxine Sapulette (NED)
Team - 1st Germany, 2nd Great Britain, 3rd USA, then NED, HUN, FRA, ISR, RSA, AUT, SER, AUS, CRO, BUL, ITA, HKG, SLO, NOR, SVK, SNG, JPN

See all Facts and Results: here

---
3rd World Championships 2005 - Budapest, Hungary
Open Men - Bernhard Hinterberger (GER)
Open Ladies - Denise De Haan (NED)
Masters Men - Csaba Ekes (HUN)
Junior Men - Sam Collins (AUS)
Junior Ladies - Pauline Dyrschka (GER)
Boys - Marc Shuster (RSA)
Girls - Michelle Bausch (GER)
Team - 1st Germany, 2nd Hungary, 3rd USA, then NED, GBR, AUS, ISR, RSA, FRA, SER, BUL, CRO, AUT, SVK, THA, JPN, NOR, SLO

See all Facts and Results: here

---
2nd World Championships 2003 - Logan, Australia
Open Men - Bernhard Hinterberger (GER)
Open Ladies - Kirsten Fromeyer (GER)
Masters Men - Zak Strickland (GRB)
Junior Men - Björn Seidler (GER)
Junior Ladies - Pauline Dyrschka (GER)
Boys - Peter-Pascal Schmidt (GER)
Team - 1st Germany, 2nd Great Britain, 3rd Australia, then USA, HUN, NED, FRA, AUT, ISR, CRO, JAP & SNG (JOINT)

See all Facts and Results: here

---
1st World Championhips 2001 - Dusiburg, Germany
Open Men - Bernhard Hinterberger (GER)
Open Ladies - Sally Grice (AUS)
Masters Men - Chris Potts (GRB)
Junior Men - Ben Hitch (GBR)
Junior Ladies - Sally Grice (AUS)
Boys - Sam Collins (AUS)
Girls - Pauline Dyrschka (GER)
Team - 1st Germany, 2nd Great Britain, 3rd Australia, then JUN, NED, USA, AUT, JPN, ICL, THAI, FRA, JAM, CRO, RSA, BUL, TUR