How to: Set up your riders profile and join competitions
If you have registered successful and have received your username and password you can now log into the MY ZONE and access your profile.

If you have not registered yet and have no idea on how to do
read part one of our How To: Registration
Click the
login link
on our hompage, fill in your username and password.
If you forgot your password go check your email and look for the email we sent you after you registered. If you can't find it and have no idea where to search just follow these instructions:

Type in it your email address or username and hit the send button. You will receive an email with a new password which you can use to login.
Alright, now you should be able to enter the MY BOARD section of the website. Once you did you will see two tabs, one labeled My Profile and the other one My Competitions

Your profile
The first two parts is just basic information we need to have your contact details and personal information.
This is were you can also change your password.

The third part with the additional infos is what is available online and what we will use on the competitions. We display it on the screens for public and the moderator when you are riding, embed it into our livestream covering the big comps and use it for media.
So try to keep it updated all the time - it does make sense and helps you promote yourself and the sport.
In addition you can upload up to 5 fotos - please keep in mind that you need to convert the pictures correctly. This means they must be square otherwise they will look really weird.
Before uploading open the pics in your picture editor of choice or just ask someone to do it for you. Crop them to a square format like 200x200, 360x360 etc. and now your ready to upload them.
Competitions
This is were you can join competitions. It's basically our official calender in which you can click on the events to
see the details
and to actually
join the competition
.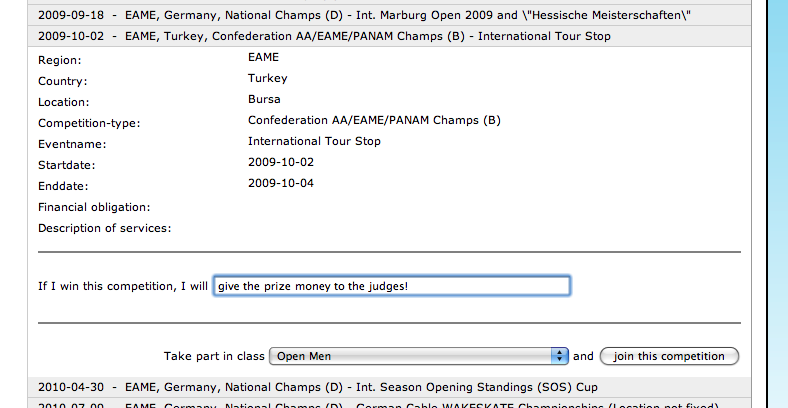 To do so, just enter what you are going to do if you win this competition, choose your respective category and hit the
join this competition
button.
That's it. Now you are registered, joined the comp and have your riders profile set up to represent you on the web and at the events.
Thank you, now you can go back riding...